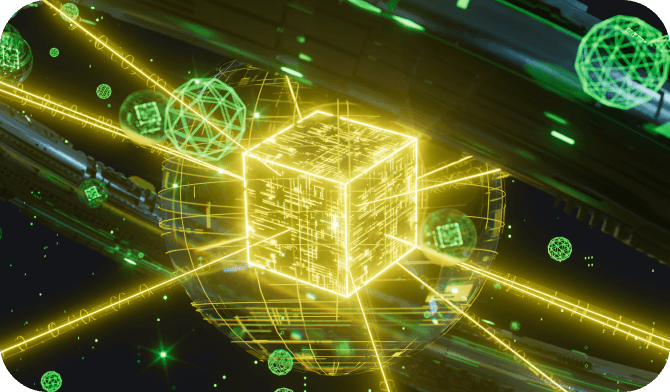 BNBCHAIN Brief History
Do you know what BNB GREENFIELD is? No? Perfectly here we will explain what it is, what it is about Keep reading that you will thank you later, but first let's go with BNB CHAIN
Everything starts from That Transition in February 2022 Binance Smart Chain (BSC) to become BNBCHAIN, yes The Blockchain network in which developers and innovators have the opportunity to create dapps, Conforming to a Transition to Web 3, positioning itself today as The most widely used and largest smart contract blockchain in the world by Transaction Volume and Active Users.
Now let's go where we came from, BNB Greenfield
Beginning of February 2023, BNBCHAIN I present the introduction of its BNB Greenfield Whitepaper, this Whitepaper presents a solid structure that provides to provide the ecosystem with a decentralized storage scheme through data through its own BNB Greenfield ecosystem, The approach consists of in facilitating users and dapps to exchange, store or create data where they can have ownership of it in order to grow and build a real data economy, unique to BNBCHAIN.
You can read the full WhitePaper here:
https://github.com/bnb-chain/greenfield-whitepaper
BNB Greenfield will also allow applications to store your encrypted personal data in your personal account and only if you grant permission, other applications will be able to use it or, if the applications pay to use your data.
BNB Greenfield Features
This Blockchain, formulated for the storage that projects a decentralized network of storage providers, users can upload their own data and with the Access Permissions or also their unique Use, Said Storage Providers will be able to store the data Off-chain while others known as Ledger metadata would be stored on the BNB GREENFIELD blockchain.
How would that be accomplished?
Through a bridge, known as cross-chain, this means that all the elements or data stored in the BNB Greenfield blockchain will be able to be easily transferred to BNB Smart Chain, this is where we would have options to use a broad and existing ecosystem of BNBCHAIN Dapps or you could also simply use the new generation of Dapps from the BNB Greenfield ecosystem, which certainly could help you interact with the same ecosystem, or they would simply also act as Web3 products that take advantage of the available data.
You have the Power to configure unique and smart contract enabled permissions to allow for myriads of potential future business models that can benefit the user and many other BNB Greenfield participants.
Potential Use Cases
These would be some potentialities that BNB Greenfield could highlight and thus be able to create a stir of Dapps:
BNB Greenfield Could Offer Varieties of APIs, offer hosting service where people can implement sites through BNB Greenfield and thus also be able to easily manage payments with BNB for web hosting!
The private keys, each user has the opportunity to generate their own using BNB Greenfield to upload and download both files, photos or videos. The best thing is that you can do it through desktop computers or mobile devices and thus you would have personal storage on the BNB Greenfield cloud.
This blockchain is quite interesting. It offers a structure for Social Media Influencers, as well as for those Opinion Leaders (KOLs) to own their own content and data that they do on a daily basis, they will pay a commission, also dapps will have the opportunity to use this data, and share it publicly with your audience through this Decentralized Social Network.
If we seek to store Type L1 data in the BNB Greenfield blockchain, it will not be the exception, we will be able to use it to store this type of data and reduce Hibernation in L1 or the smallest and fastest cache with this would be achieved, increase the availability of data and send the data that is inactive to L1 if necessary, BNB Greenfield arrives as an alternative, much cheaper, for you to store your commercial data Rollup L2.
This can become one of the most difficult problems to solve currently, which are: how to have control of your data, page views, cookie records, clicks, behavior data, among others but would not provide, that large companies or centralized monopolies perform, manage, or misuse this personal data market.
It would also give rise to all the publications, each author can store it in the BNB Greenfield and in this way they can be reflected in the BNB Smart Chain where they can be sold simply by granting a read permission to the buyer's address or wallet only after receiving the pay.
Creation of BNB Greenfield and its own Tesnet?
At the beginning of February 2023, a team in charge of the BNB chain was in constant and active communication with Amazon Web Service, Blockdaemon and NodeReal simultaneously began work on BNB greenfield and the launch of its own testnet, or test network.
What was the purpose for which BNB Greenfield was created?
It was created with the purpose of including all communities, either Web 2 and Web 3 is a more accurate approach to the future, the purpose is to go further, provide futuristic options, since the APIs will be designed to support high performance similar to Cloud Storage systems, and obviously the commissions will be canceled in BNB and also in USD giving another utility to its native token in the chain of blocks, which will also provide its users with greater knowledge in the cost structure of Greenfield BNB
BNB Greenfield is the present and future of Web3?
This step that BNB is taking is very important, because data transparency and ownership is a big step towards the future, and thus reveal the great potential that Web 3 can become.
BNB Greenfield must continue with the constant development, updating and work of this new stage of its entire ecosystem that this time comes hand in hand with the entire Web 3 community and the General community that will be the beneficiary of all this illustration that BNBCHAIN is creating.
The BNB Greenfield Whitepaper is an important step to be more Independent, have more ownership and opportunities, as a Web3 user, this decision is important for the future as users will have more control over their data and experiences as well BNB greenfield has the opportunity to open doors to all business models New, innovative and fully transparent For Dapps!
BNB Greenfield Tesnet Tests
On April 12, 2 months after the whitepaper came out, BNBCHAIN carried out a Greenfield test scenario, a Network that is compatible with Ethereum, with the objective of creating spaces for developers, with the purpose of decentralized data storage, of the qualified Web3
BNBCHAIN announced the Start of BNB Greenfield's Congo V0.1.0 testnet, this innovation is the third major network in the decentralized finance (DeFi) sector.
The mainnet will be launched in the third quarter of the year 2023
Congo is already operational, and users can use it to learn about the various Functions that it brings, for example: "Create accounts, Store data, access control, communication between chains, storage provision, node validation and staking" so they have informed in the official announcement
As a conclusion, the Blockchain is Open Source, and as mentioned above it will use the native BNBCHAIN token (BNB) in order to cover transaction fees. It also has the purpose of being compatible with both Ethereum and BNBCHAIN, and in this way it can be used both by developers and users in the field of DeFi, through an SDK (Software Development Kit)
On BNBCHAIN there are more than 500 decentralized applications with a total value locked that exceeds USD 5,000 Million
Differences between BNBCHAIN and BNB Greenfield
BNBCHAIN this chain of blocks focuses more on Smart Contracts, it was specially designed to exchange digital assets and financial transactions, it is open, multi-chain, designed for creators and inventors, Permissionless, Decentralized.
BNB Greenfield has a special focus on deep decentralization, it is based on decentralized data ownership and economy on so-called web 3, it is open source with BNB as a token. aims to provide easy access and management of decentralized data, it also aims to revolutionize the data economy, thus facilitating data storage and management by linking data ownership to the BNB Smart Chain (BSC) DeFi context )
Research source